CLICK HERE TO CONTACT A SC PROBATE LAWYER
MOPED DEATHS IN SOUTH CAROLINA

Moped deaths are on the rise in South Carolina. In 2015, there were a total of 55 moped rider deaths in south Carolina.  As mopeds become more popular as a cheap means of travel, the number of accidents is on the rise. Mopeds are very difficult to see, especially at night, and normally travel at a slower speed than a car or truck.
In November, a 36-year-old man traveling in Anderson County was driving on U.S. 76 when a vehicle suddenly turned in front of him, causing him to crash into the vehicle. While he was on the road, two other vehicles struck him. The moped driver died of his injuries and one of the cars involved in the collision drove off without stopping.
In October, Daniel Soulia from Cowpens was on a moped on US 176 in Spartanburg County when he was struck from behind by a station wagon at 5:45 am.  Daniel died shorty after the accident. The driver of the car simply did not see him in time to stop.

In November 2015, there were two more deaths when both riders on a moped were struck and killed by an SUV in Florence. The driver of the SUV fled and was later charged with felony DUI and leaving the scene of an accident.
South Carolina moped deaths jump 57% in 2015
NEW MOPED LAW IN SC. PROPONENTS SAY IT WILL REDUCE MOPED DEATHS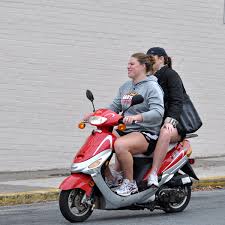 Under a new law that is pending in the legislature, mopeds would be registered with the South Carolina Department of Motor Vehicles. Currently, they are not classified as "motor vehicles." Therefore, drivers are not required to have a license and are not subject to DUI laws but that will all now change under the new legislation if it is passed.

In addition to the new registration requirement, drivers who don't have a regular driver's license must obtain a special operator's license; wear reflective vests; and, if under 21, wear a helmet.

Moped deaths and motorcycle deaths are increasing as the traffic on South Carolina roads have increased and the terrible condition of the roads in South Carolina has not been addressed. If you or a loved one has been injured in a motor vehicle accident, click on the link below to contact a South Carolina personal injury attorney to assist you.   
CLICK HERE TO CONTACT A SOUTH CAROLINA INJURY LAWYER